Sophomores - Get Ready for College
There's an old Chinese saying that goes, "The journey of a thousand miles begins with a single step." But no matter how unsure you feel taking that first step, every single one after that will be a little easier. It also helps if you have a plan to follow through your sophomore year-and here it is.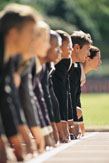 Prepare for standardized testing
Take the ACT PLAN test in the fall, normally in October or November. This is a valuable test to help you prepare for the ACT which you can take during your junior year in April or June.
Review PLAN test results with your parents and school counselor. Compare these to your EXPLORE results to measure growth.
Take the PSAT in October. The scores will not count for National Merit Scholar consideration in your sophomore year, but it is valuable practice for when you take the PSAT again in your junior year when the scores will count, as well as for the SAT Reasoning Test, which you should also be taking in your junior year. You will receive your PSAT results in December.
Start preparing for the SAT Reasoning Test .
Register in April for the SAT Subject Tests that you will be completing before June.
Take the SAT Subject Test in June.
Update your file of important documents and notes
Copies of report cards
Lists of awards and honors
Lists of school and community activities in which you are involved, including both paid and volunteer work, and descriptions of what you do
Continue college search and visits
Think about selecting a school, finding out about the different types. Decide which characteristics are most important to you, such as the size of the school, distance from home, cost, and extracurricular activities.
Visit colleges and talk with college students.
Be ready with a list of questions to ask on your campus visit.
Use the above list of college characteristics to decide how to evaluate different colleges.
Review the high school course you need to take to meet the requirements of the colleges you are interested in attending.
Find out about honors-level courses at your school
Ask if AP or other honors courses are available.
See if you are eligible for the honors classes you want to take.
Find out how to enroll in them your junior year.
Other top tips
Continue extracurricular activities, as admissions officers look at students' extracurricular activities when considering them for admission.
Continue participation in academic enrichment programs, summer workshops, and camps with specialty focuses such as music, arts, and science.
Continue to meet with your college/career counselor at least once a year
---