Talking with Your Teen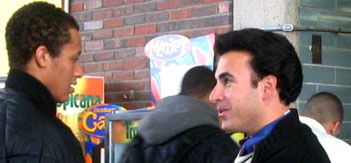 It may not always be easy to talk with your teen. But it's important that you support your teen throughout their college planning- help them organize the process, meet deadlines, and talk with the right people. Below are a few tips to consider. Get even more resources in the GEAR UP Kentucky Family & Community Zone.
Listen
Be receptive to and listen when your teen wants to discuss career and/or college plans. When your teen opens up and decides to share, listen, pay attention, and try to see their point of view. While you certainly have more life experience, your teen is an expert on being a teen of this generation. Listening and honoring the experience and opinions of your child can go a long way in opening lines of communication and establishing a trusting relationship.
Acknowledge
Making new friends, having a harder class schedule and homework, and becoming familiar with a new school and new teachers can be scary for a teen. Encouraging your teen to talk about his or her feelings and acknowledging that his/her feelings are real will assure your child that you understand and are there for support if needed.
Be Real
Teens have a ready radar to know when you are giving false praise or saying something you don't mean. Make a point to express your feelings and opinions respectfully (without judgment) and honestly and your teen will learn to trust your opinion more readily.
Encourage.
Encourage them to capture their ideas on paper. One idea is to create a scrapbook of their plans for career and college.
Be aware
Be aware of various deadlines for applications to colleges and financial aid. Put them on a calendar that both you and your teen can look at.
Make Time to Talk
Your child needs to know that you feel their time is important. When you have something you want to talk with them about, give them a heads up. Leave a note, send a text message, or ask them to pencil you in for 15 minutes to chat.
You can also look for opportunities to talk during the everyday moments of life - on the morning walk to the
bus stop or drive to school, the walk across the parking lot, waiting in the fast-food drive-thru, etc. Keeping the
mood light and casual can help you connect to your teen about important topics like planning for college.
Keep It Short and Sweet
It should come as no surprise that the average teen has a short attention span (about 12-15 minutes) for direct conversation with an adult. When talking with your child about their plans after high school, get right to the point, keep it straight-forward, and say what you mean.
Step In
Connect to career
Research
---