International Baccalaureate (IB) Program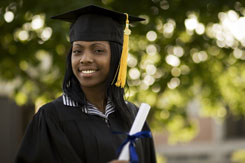 How Does It Work?
High schools students complete a two-year pre-college diploma program by selecting one subject from six subject groups: the student's primary language, a second language, mathematics, experimental sciences, the arts and humanities.
How Is Credit Earned/Awarded?
By scoring a 4 or higher on an exam in each of the 6 subject areas. A total of 24 points is required to receive the pre-college diploma. Students not on the diploma track can earn a certificate. Not all colleges/universities award credit for IB; contact the college you plan to attend (Need KDE Link) for information about IB credits.
What Does It Cost?
Who's Eligible To Do It?
11th and 12th graders who attend one of the IB schools in Kentucky. School may require a certain academic standing; check with your school counselor for eligibility criteria.
How Do I Get Started?
---