Adults - Kentucky college success stories - Josh Sparks
GEAR UP student pursuing dream of teaching college math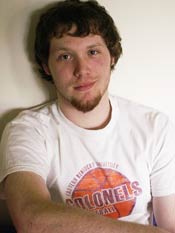 Ever since he was young, Josh Sparks wanted to teach. He knew to achieve this dream, he had to go to college.
Born in New Boston, Michigan, Josh moved to Sandy Hook, Ky, his freshman year of high school. That year, his new school- Elliott County High School- was chosen to participate in the GEAR UP Kentucky program.
Through GEAR UP, Josh participated in summer camps at Eastern Kentucky University, learning about the steps it took to plan, pay for and succeed in college. Because his parents had told him early on he would need to pay for his own college education, he began to prepare early. "I saw how my parents struggled without their degrees," says Josh "When I was getting ready to leave for college, we were just getting to working class. On my FAFSA my freshman year, our family income was $11,000." From what he learned in GEAR UP, Josh knew that getting involved in extracurricular activities would increase his chances to get a scholarship, so he got busy.
He participated in his school's academic team, chess team, French club, baseball team, yearbook team, Future Educators of America group, student government association and BETA Club Council. Despite his busy schedule and the financial challenges his family faced, Josh was very successful in high school and graduated in 2006 with a 3.96 grade point average.
After graduation, Josh enrolled at Eastern Kentucky University. His efforts in high school paid off, earning him an EKU Excellence Scholarship, which paid his tuition, housing and meals in full. Through his participation in Upward Bound, dual credit courses, and various other programs, he entered EKU with 24 college credit hours.
Josh is now in his senior year at EKU, pursuing a bachelor's degree with a double major in math and sociology and a minor in statistics. He is an active member of the campus community at EKU and works part-time as a lab assistant in the math department. He plans to earn his Ph.D. and teach college math at a Kentucky college or university.
This summer, Josh is serving as a budget analyst intern at the Department of Treasury in Washington D.C. To help others follow in his footsteps, Josh participates as a GEAR UP e-mentor at EKU. As a mentor, he corresponds online with 7th and 8th graders at neighboring schools offering advice about how to prepare for and succeed in college.
"If you want to go (to college), there are plenty of ways to make it possible," says Josh. It's not about intelligence or talent, it's about persistence and desire. As long as you prepare in high school and do the work, you'll succeed."
---