Adults - Kentucky college success stories - Sebastian Coe
Education without borders- student earns degree in Kentucky from across the globe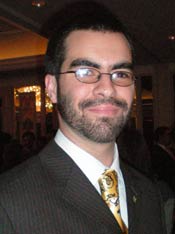 After a brief stint at the Virginia Military Institute in 2000, Sebastian Coe had all but abandoned any hope of furthering his college education. Though he had attended VMI for a year, he lost motivation to continue, instead working as a low-level manager in a food services company.
In 2006, Sebastian learned about the Kentucky Virtual Campus and decided to go back to school online. A year later, he transferred to the telecommunications systems management online program at Murray State University. After a semester in the program, he applied and was chosen to represent Murray State in China as an English instructor, where he remains today.
While living in China, he continued to take online courses, and eventually was able to accumulate the credits to earn his degree. His goal is to continue learning online and eventually earn a master's degree.
"Online learning is such an excellent way to give an entire new generation of students the skills they need to confront the challenges of the modern world. It allows students that cannot attend traditional classes, like me, to further themselves both intellectually and as human beings."
---