Adults - Kentucky college success stories - Anthony Smith of Louisville, Kentucky
Anthony Smith - GED opens doors, changes generations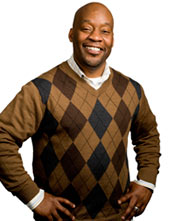 Anthony Smith of Louisville grew up in a single parent home and dropped out of high school. After earning his GED, he enrolled at Jefferson Community and Technical College.
Anthony later transferred to Northern Kentucky University and became the first in his family to earn a bachelor's degree. He worked his way through college while supporting himself, his wife, and their two young sons. In all, it took him seven years to earn his bachelor's of arts degree in political science with a minor in legal studies.
After graduation, he chose to come back to Louisville to raise his family and has chosen a career in which he works with our most important natural resource—our youth. Anthony's experience and background has been extremely valuable in his work as the lead organizer for Making Connections in Louisville.
In this role, Anthony works to connect residents and agencies in four Louisville neighborhoods to resources related to job training, early childhood and asset building.
Anthony and his wife Devoyna have been married for 10 years and have three sons ages 20, 18, and 10. As proof of the generational impact postsecondary education can have, Anthony's eldest son is a sophomore at Western Kentucky University, and the 18-year-old just completed his 1st year at WKU with his brother.
---