Sophomores - Explore your Interests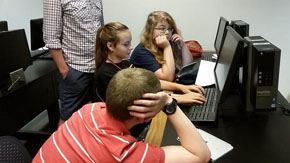 Whether it's playing sports, building models, or playing an instrument, your interests today say a lot about what career you might pursue. Match activities you like with jobs you may like.
Try these 10 steps to start exploring these interests:
Step 1 - What interests you?
Make a list of your skills and interests. Think hard about what you enjoy and what you are good at.
Step 2 - Connect the dots
Step 3 - Make a match
Step 4 - Set your goals
Once you've decided what occupation matches up best with you, then you can begin developing a plan to reach your career goal.
Step 5 - Make a plan
Develop a career plan. Think about what you want to do and find out more about the kind of training, education, and skills you will need to achieve your career goal.
Step 6 - Do your homeowrk
Step 7 - Find some cash
Find out about financial aid to help support you in obtaining your career goal.
Step 8 - Research the market
Learn about job hunting tips as you prepare to graduate or move into the job market.
Step 9 - Get ready
Prepare your resume and practice interviewing techniques.
Step 10 - Get out!
Go to the career guidance center at your school, or visit the local library for additional information and help on career planning.
Bonus
---