Juniors - Get Ready
With just two years until graduation, it's time to start getting ready for your next steps. Here are some important things to do and think about this year.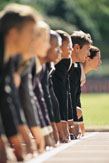 Prepare for and take standardized tests.
Check the schedules for the PSAT in the fall, and the SAT Reasoning Test and SAT Subject Tests, ACT, and AP tests in the spring.
Discuss with your school counselor why you should take these tests and how they could benefit you.
Determine which tests you will take. (You can always change your mind.)
Sign up and prepare for the tests you've decided to take.
Maintain good grades and other academic activities.
Continue to take and seek out challenging courses.
Join an academic club.
Start or update an academic resume.
Assume leadership roles in your activities and sports.
Consider putting together a portfolio that highlights your special skills and talents.
Continue college search and visits.
Gather information from colleges. Request brochures and catalogs and attend college fairs.
Visit colleges and talk with college students.
Talk with your parents and high school counselor about colleges that interest you.
During the summer between your junior and senior year, write practice applications and essays and decide where and if to apply early decision, early action or regular decision.
Fall Semester Timeline
August:

Start your year off right: Talk with your guidance counselor about your options and your plans. Be sure to ask about test dates for the PSAT, ACT, and SAT. You'll need to register up to six weeks ahead of time.
Sign up for courses with your eyes on the prize: college and money to pay for it! A tougher course load may pay off with scholarships and may get you a better chance to get admitted to the school of your choice.
Start investigating private and public sources for financial aid. Take note of scholarship deadlines and plan accordingly.
Sign up for activities to boost your college applications.

September:

Find out about schools you are interested in attending. Treat your school selection process like a research paper: Make a file and gather information about schools, financial aid, and campus life to put in it. Go to college fairs and open houses and learn as much as you can from the Internet about schools.
Begin planning college visits. Fall, winter, and spring break are good times because you can observe a campus when classes are going on.

October:

Take the PSAT. You'll get the results by Christmas.
Sign up for ACT or SAT prep courses.
Do your top college picks require essays or recommendations? Now is the time to begin planning your essays and choosing whom you'd like to ask for a recommendation.

November:

Sign up for the ACT and SAT, if you haven't already.

December:

Begin the application process for service academies (West Point, Annapolis, etc.)
Decide if you should take AP exams in May. Investigate the College-Level Examination Program® or CLEP, which grants college credit for achievement in exams covering many different college-level subjects.
Spring Semester Timeline
January:

Meet with your guidance counselor again to develop your senior schedule.
Organize your Individual Graduation Plan.

February:

Think about lining up a summer job, internship, or co-op.
Plan campus visits for spring break.
Memorize your Social Security number if you haven't already. It will be your identity on campus.

March/April:

Get ready for AP exams next month.
Write a resume.
---